Tuesday 23 March
Mornington Primary School Author Event.
Caz and Lazy Daisy love doing school visits. They will entertain the children at Mornington Primary School, talking about writing, reading, books and koalas. Their aim is always to get kids enthusiastic about books and reading.
Saturday 20 March
Society of Children's Book Writing and Illustrating event. Alyson O'Brien, associate publisher at Hardie Grant Children's Publishing, will be joined by Caz Goodwin in an "In-conversation" session, sharing her insights about picture book writing, illustrating, publishing and more.
Then award-winning author and illustrator of the bestselling Stella Montgomery series, Judith Rossell will talk about plotting and character development.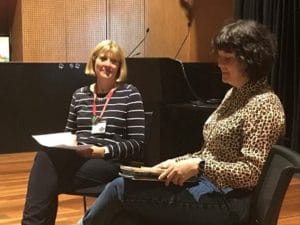 16 March 2021
Sarah Ferguson, Duchess of York, will read Daisy Runs Wild on Storytime with Fergie and Friends. Here is the
link
to watch it:
Sunday 7 March 2021
Fish Creek Children's Literature Day. Legendary illustrator Roland Harvey and Caz Goodwin will be presenting about writing and illustrating children's books with a focus on yoga-loving wombats and lazy koalas. Daisy the giant koala will be there.]
Monday 15 February 2021
Speaker at the Society of Women Writers Victoria's For the Love of Writing Festival. "Hear from well-known children's book author Caz Goodwin and illustrator Jess Racklyeft as they discuss what it takes to create books for children."
Speakers at the festival include Rosalie Ham (author of The Dressmaker), Pip Williams (author of The Dictionary of Lost Words), Hazel Edwards (author of There's a Hippopotamus on My Roof Eating Cake) children's author Susanne Gervay and others.
February 2021
LAZY DAISY has been re-printed in paperback. Available now from all good bookshops and
online