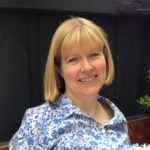 I am a Melbourne-based children's author. I am passionate about encouraging children's interest in and love of reading. I'm also the Assistant Regional Adviser (Victoria) for the Society of Children's Book Writers and Illustrators (SCBWI).

Family
I live in Melbourne with my husband and two boys. We have two dogs. Possum (the oldest) is white and fluffy and well-behaved. Our puppy Godzilla is black, boisterous, cheeky and lots of fun.
Scary stuff
I went Bungy-jumping in New Zealand. That was pretty scary. Once when I was in Eastern Europe, I was thrown off a train at 3am by gun-wielding customs officers. Apparently my visa wasn't valid. I was able to get on another train six hours later after giving the customs officers most of my money.
Pets
We've had fish, dogs, a guinea-pig, a hamster and a turtle. My favourite animals are dogs and koalas.
Food
I love eating but hate cooking. My favourite foods are chocolate, ice-cream and apples.
Writing
I love writing. It's fun using my imagination to create interesting characters and stories. And unlike real life, I can be in complete control of what happens, except for the occasional naughty character who will run off and do something totally unexpected. I write picture books, short stories, novels and poetry for children.
Hobbies
I enjoy reading, writing, all kinds of music, watching movies and plays, laughing and travelling.